September 5- November 9, 2014

"We Who Feel Differently" at X Gwangju Biennale, South Korea curated by Jessica Morgan with Emiliano Valdes and Fatos Ustek.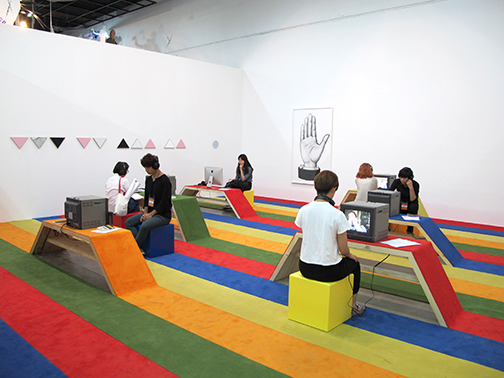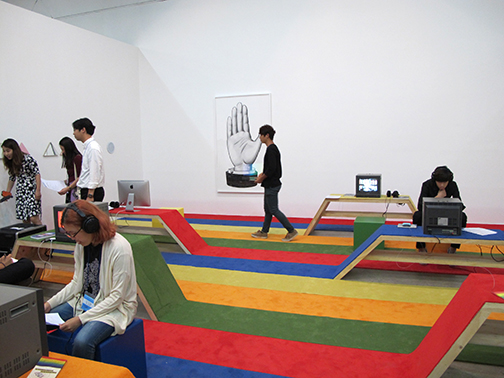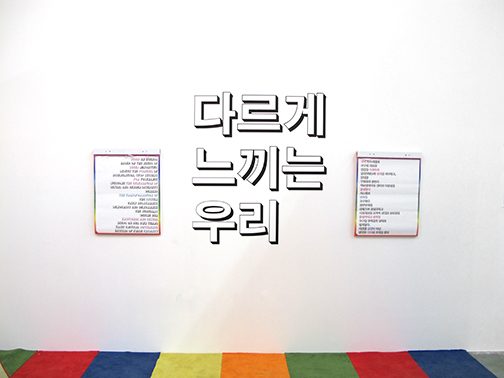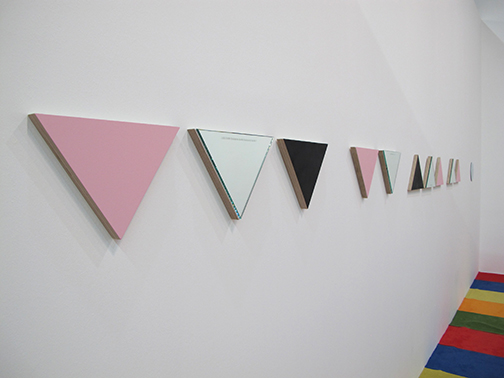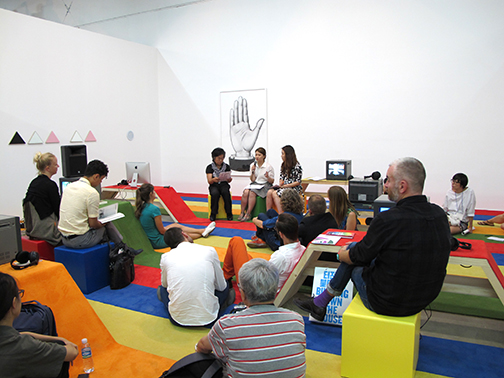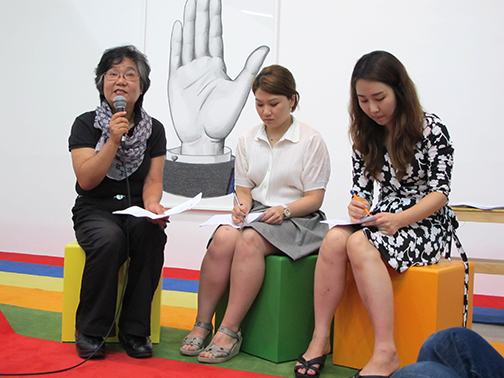 CHOI Hyun-sook delivered the lecture "The History and Unresolved Issues of LGBT Rights in Korea."  
"We Who Feel Differently" at Espai d'art contemporani de Castelló, Spain as part of the exhibition "7.000.000" curated by Arlandis Marroquí. Below an interview with Carlos Motta by Manuela Moscoso for the exhibition's catalogue. (Download catalogue here)

"Battleground States," Utah Museum of Contemporary Art, Salt Lake City —A small installation of "We Who Feel Differently" was included in the group exhibition and Carlos Motta gave an artist talk.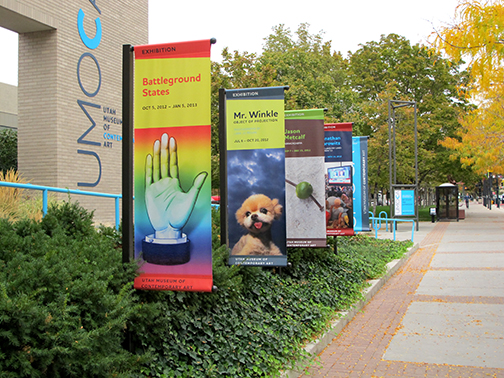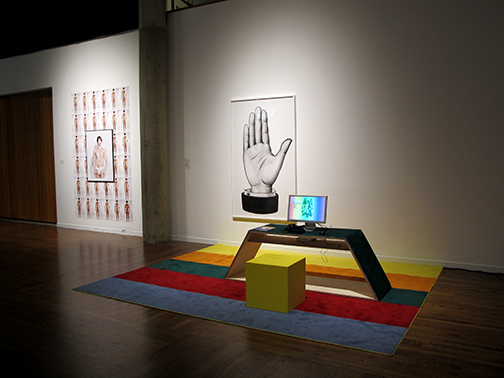 Battleground States (OCT 5, 2012-JAN 5, 2013) brings together artists who critically engage with the discourse of visual culture and gender studies. Through video, sculpture, installation, and photography, these works explore ideas of how figuration and identity are connected.
Battleground States analyzes the space between traditional gender duality by exploring alternative forms such as the third gender, a generally foreign concept in Western culture. In their non-Western roles, these alternative identities denote a space for possibility and transcendence. The exhibition moves towards notions of the "post-gender" as a way to better understand how our cultural diversities open up interpretations of a third space.
Artists: Daniel Albrigo, Absalon, Bas Jan Ader, Matthew Barney, Tobias Bernstrup, Robin Black, Nayland Blake, AA Bronson, Heather Cassils, Nicole Eisenman, Felix Gonzalez-Torres, Jonathan Horowitz, Trishelle Jeffrey, Amy Jorgensen, Asma Kazmi, Terence Koh, Annie Leibowitz, David Levine, Matt Lipps, Georges Minne, Carlos Motta, Takashi Murakami, Shirin Neshat, Bertrand Planes, Genesis Breyer P-orridge, Dean Sameshima, Jack Smith, Trevor Southey, David Wojnarowicz, Patrick Tuttofuoco, Guido van der Werve.

↑Top  
"Show and Tell: Nayland Blake, Carlos Motta and Larry Rinder in Conversation," Yerba Buena Center for the Arts, San Francisco— In the context of the exhibition Nayland Blake: Free! Love! Tool! Box!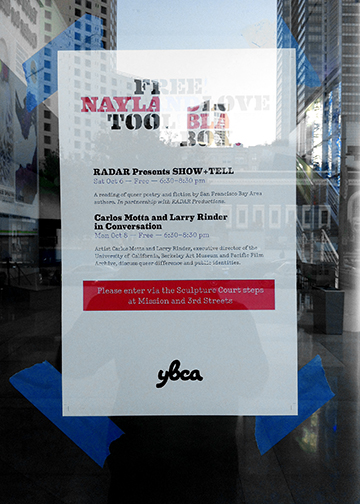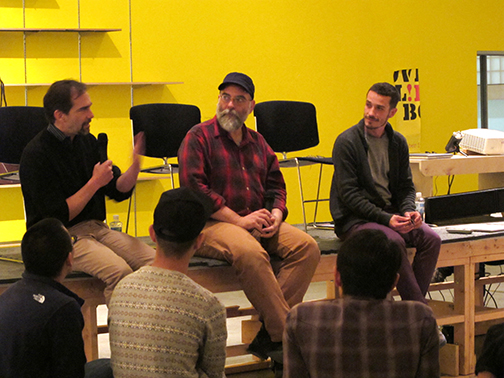 Artists Nayland Blake and Carlos Motta, and
Executive Director of the University of California, Berkeley Art Museum and Pacific Film Archive,
 Larry Rinder, discussed queer difference and public identities. Motta spoke about his recent projects: 
We Who Feel Differently
 and 
Petite Mort: Recollections of a Queer Public
(with Joshua Lubin-Levy)
,
 a book that assembles drawings, by over sixty gay men, from memories of spaces in New York City where public sexual encounters occurred . Rinder's talk included a discussion of the 1995 groundbreaking exhibition, 
In a Different Light
, which he co-curated with Nayland Blake, who joined Motta and Rinder in conversation after their respective presentations.
Show and Tell: Nayland Blake, Carlos Motta and Larry Rinder in Conversation
Download audio file (mp3)
↑Top
"Collective Reading: Chitra Ganesh, Andrea Geyer, Thomas Lax, and Alex Segade," New Museum, New York —This was the closing Thursday Night Event from "Museum as Hub: Carlos Motta: We Who Feel Differently" at the New Museum.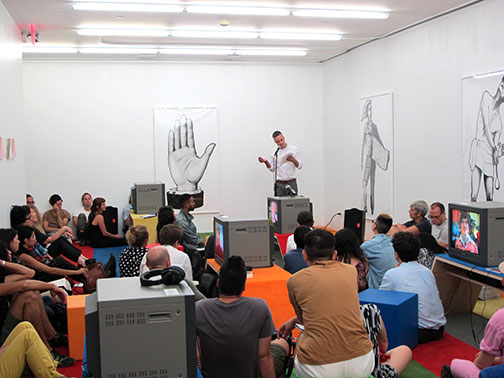 In "Collective Reading"— Chitra Ganesh, Andrea Geyer, Thomas Lax, Carlos Motta and Alex Segade read passages from some their favorite queer texts. What has been the role of literature in shaping queer lives?
Collective Reading
Download audio file (mp3)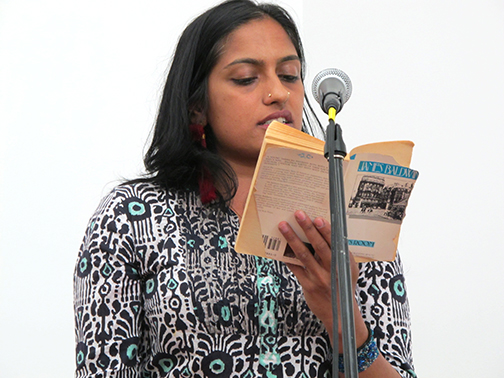 Chitra Ganesh reading passages from James Baldwin's "Giovanni's Room"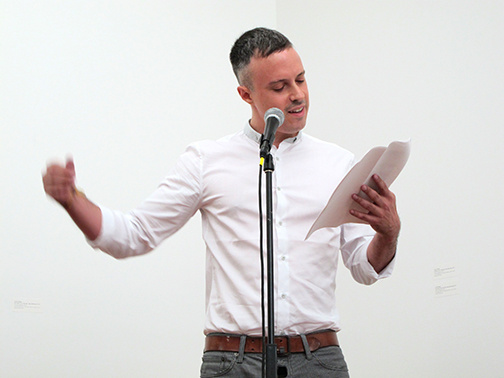 Alex Segade reading passages from Christopher Marlowe's "Hero and Leander."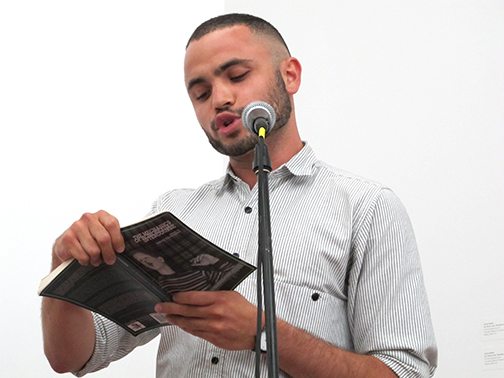 Thomas Lax reading passages from Lonely Christopher's "The Mechanics of Homosexual Intercourse."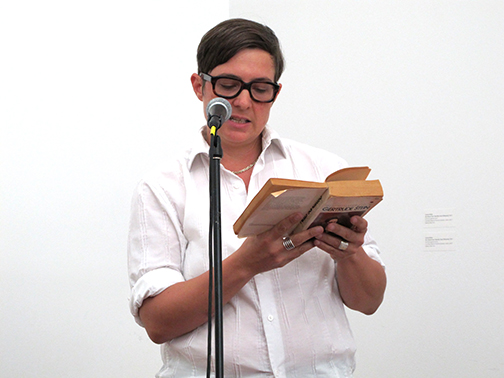 Andrea Geyer reading passages from Gertrude Stein's "Portrait of Mabel Dodge."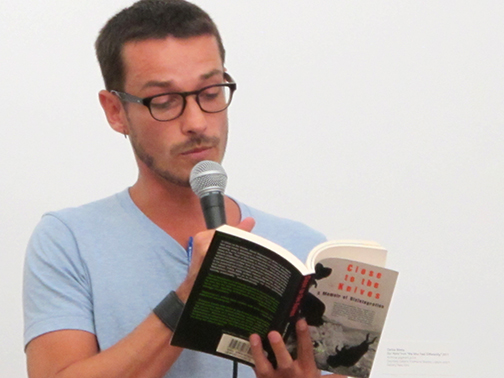 Carlos Motta reading passages from David Wojnarowicz's "Postcards from America: X Rays from Hell."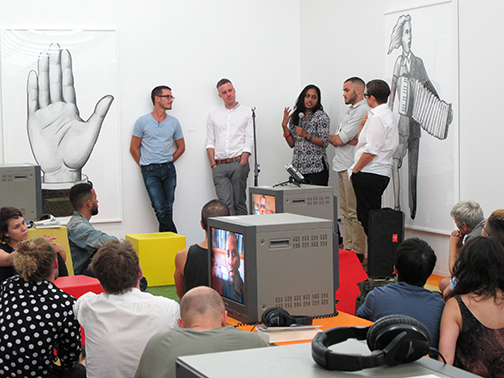 Q & A with the artists and the audience.

↑Top 
"Other Arrangements: An Evening of Screenings Selected by Frédéric Moffet," New Museum, New York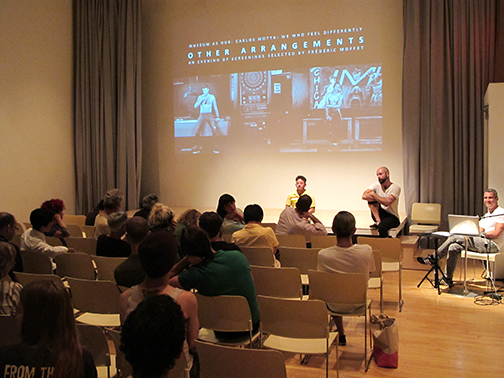 "Other Arrangements" was a film program organized by Frédéric Moffet. The selection of short films and videos offered historical and philosophical perspectives on queer folks' struggles with traditional concepts of marriage and family, while exploring alternative avenues based on friendship, community, and contacts with strangers.
Frédéric Moffet introduced and contextualized his selection of videos and was later joined by artists Benny Nemerofsky Ramsay and Oli Rodriguez for a Q & A and conversation. 

Frédéric Moffet Lecture and Q&A with Benny Nemerofsky Ramsay and Oli Rodriguez
Download audio file (mp3)




Prologue: The Faithful by Frédéric Moffet (2012) 
Originally shot on 16mm at Touché, Chicago's oldest leather bar, The Faithful is a two-channel film that explores cruising and bars as the historical locus of queer community.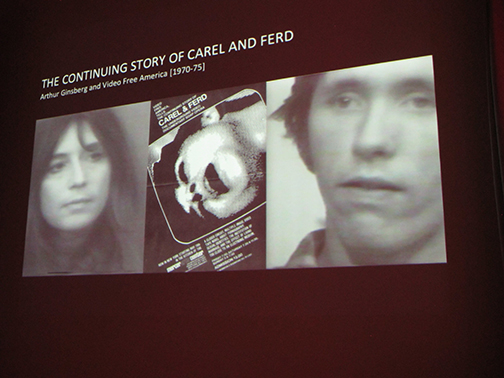 Chapter 1: The Continuing Story of Carel and Ferd by Arthur Ginsberg and Video Free America (1970–75) 
A first attempt at reality TV shot on a Portapak, the video follows the ups and downs of Carel, a feminist porn actress and experimental filmmaker, and Ferd, a bisexual junkie, as they are planning to get married to each other. Issues of intimacy, dependency, and personal growth clash with the conventional expectations for a young married couple and make everyone's experience a sheer living hell.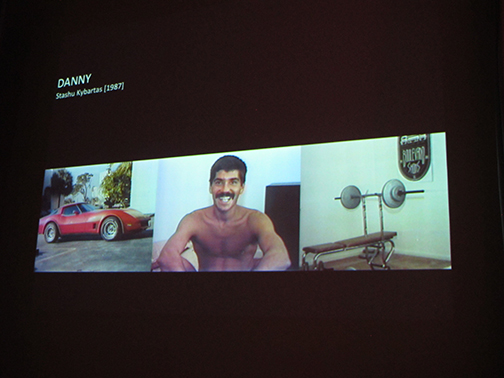 Chapter 2: Danny by Stashu Kybartas (1987) 
Kybartas chronicles his friend Danny's return home in an attempt to reconnect with his homophobic family while facing his imminent death from AIDS-related illnesses. The videomaker can't help but wonder why Danny didn't remain in the care of his friends instead, in an environment freed from secrets and shame.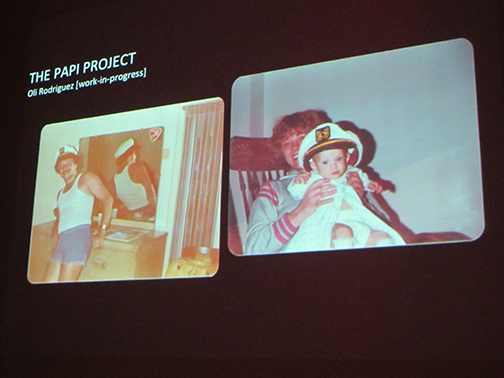 Chapter 3: The Papi Project and The Baseball Project by Oli Rodriguez 
Oli Rodriguez comes from a supportive and loving queer family. His work explores the reinvention of the self through investigations of childhood and family dynamics. In "The Baseball Project," Rodriguez infiltrates a local baseball-training program for eight-to-twelve-year-olds to re-experience his childhood as a boy. He watches the video of the training with his mother while gossiping about the adventure. Subsequently, he re-enacts the footage with a group of gender-ambiguous queer artists creating a utopian space free of the usual pressure of heteronormativity found in organized childhood sports. In "The Papi Project," Rodriguez tries to hook up with his late bisexual father's sexual partners through posting on Craigslist and other chat rooms. His father passed away in 1993 due to AIDS-related complications when Rodriguez was only a child.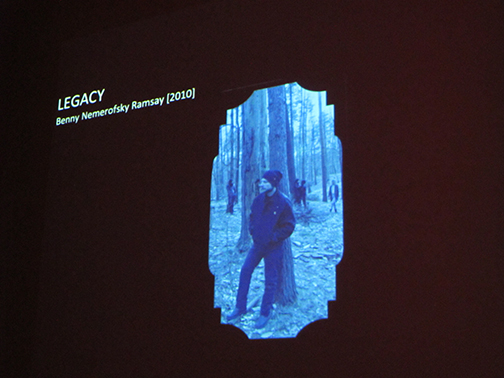 Chapter 4: Legacy by Benny Nemerofsky Ramsay (2010) 
Cruising in an enchanted forest, a mirror-masked flâneur encounters a series of oracles, each with forgotten wisdom to impart to him through song. Borrowing the words and voices of gay elders—from British essayist Quentin Crisp to pop icon Jimmy Somerville to founding Radical Faerie Harry Hay—Legacy weaves together a spiritual manifesto for queer men, reigniting a battle cry for personal and collective metamorphosis.

↑Top 
♥
August 9, 2012
Artist Talk: "Carlos Motta: Algunos apuntes sobre las políticas del afecto queer," Lugar a dudas, Cali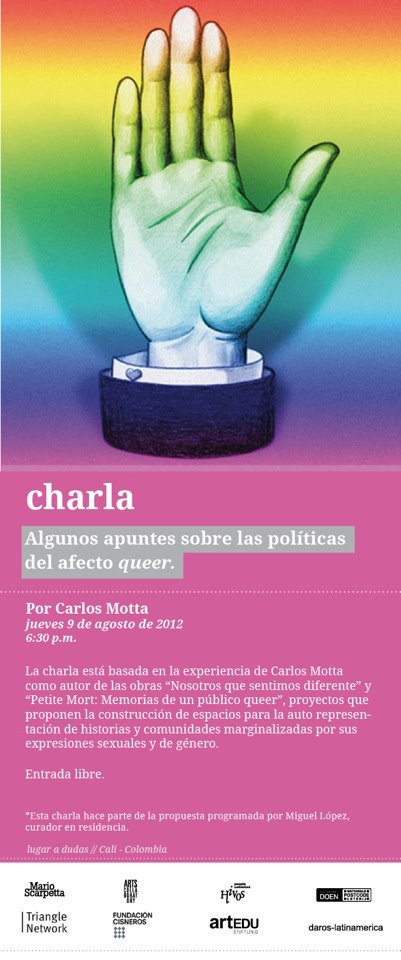 Entrevista/interview by/por Miguel López at/en Lugar a dudas, Cali (en español)

↑Top
♥
July 19, 2012
30 Years in, 30 Years Out: AIDS Activism Today by QUEEROCRACY and Visual Aids, New Museum, New York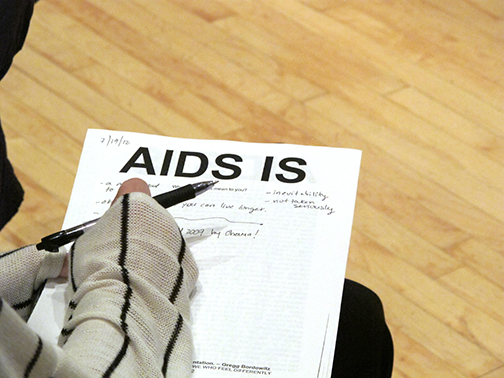 QUEEROCRACY and Visual Aids, Talk and workshop
Download audio file (mp3)

Successful activism can be seen as the action of many around a host of related issues. Behind every iconic speech, memorable image, and oft-repeated slogan are a plethora of moments involving numerous individuals with various skills, passions, and agendas. For thirty-plus years, AIDS activists have been rallying around medical treatment for those living with HIV, a cure, and an end to the injustice that exasperates the harm of HIV, and makes some people more at risk of transmission.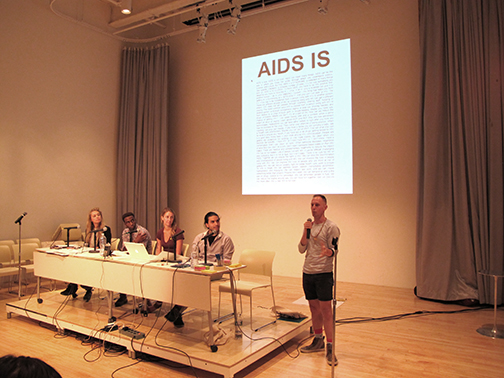 Megan Mulholland, Michael Tikili, Cassidy Gardener, Camilo Godoy and Theodore Kerr led the event.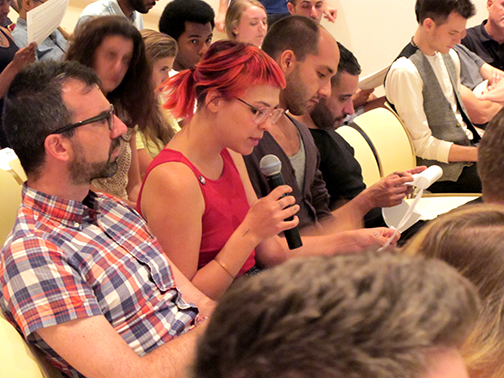 Members of the audience read sentences compiled from texts about HIV/Aids 
QUEEROCRACY and Visual AIDS facilitated a process of what it takes to create an action. An emphasis was placed on the communicative and community aspect of activism. The goal was to ensure that all those who want to participate in current AIDS activism can begin to find their place of empowerment within the ever-growing and multifaceted movement. Participants were also invited to join the free QUEEROCRACY bus to Washington DC on July 24 to demand, in a major collective action, that we can end AIDS at the 2012 International AIDS Conference Mobilization.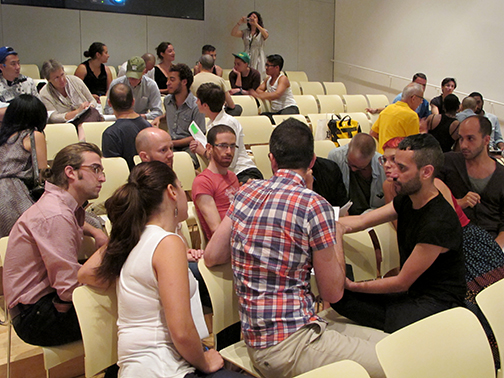 The audience in small groups discussed what Aids meant to them and wrote those thought on Post-its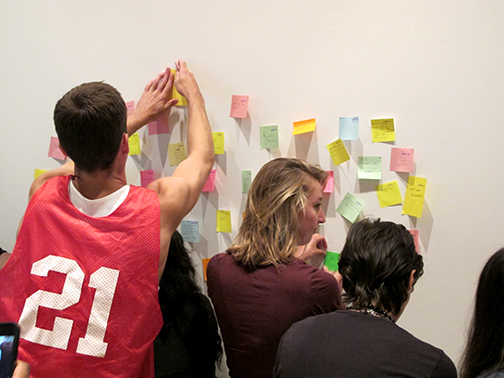 The Post-its were compiled on the theater's north wall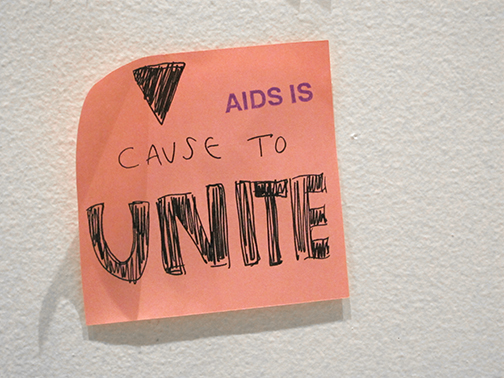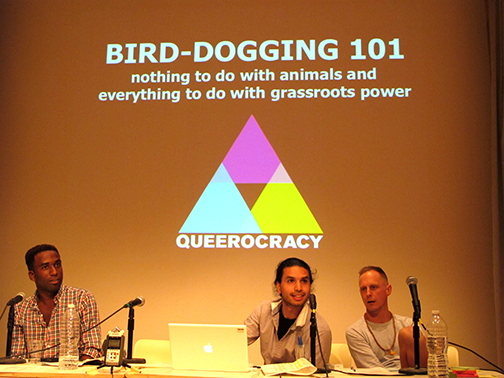 The leaders explained "bird-dogging"
QUEEROCRACY is a NYC-based grassroots organization working to promote social and economic justice through direct action, community engagement, education, and art. They commit to challenging institutional injustice locally and globally within a queer framework, building a sustainable movement to confront and transform the intersecting issues our communities face.
Visual AIDS utilizes art to fight AIDS by provoking dialogue, supporting HIV+ artists, and preserving a legacy, because AIDS is not over.

↑Top 
♥
July 17, 2012
Carlos Motta: We Who Feel Differently, Lecture and Screening, Gallery 400, University of Illinois at Chicago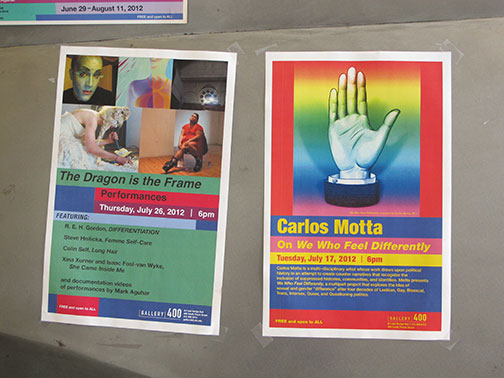 Lecture and screening of "We Who Feel Differently" in the context of "The Dragon is the Frame" at Gallery 400, an exhibition inspired by the life and work of Marc Aguhar.

Download audio file (mp3) 

↑Top 
♥

July 12, 2012

"We Who Feel Differently: Thursday Night Programs": "Jared Gilbert: Liberation Theologies for Secular Society," New Museum, New York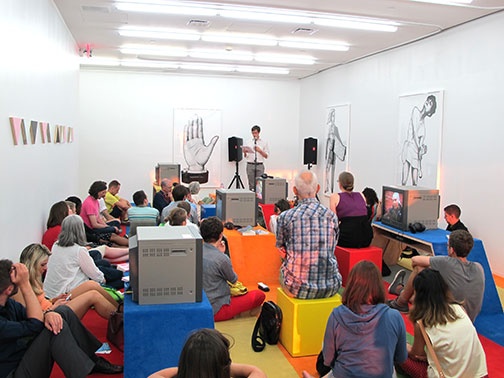 Jared Gilbert, Talk
Download audio file (mp3)
Queer theology, feminist theology, and a host of new theological movements have transformed American religions but they have done little to disrupt the political economies of otherness. In a culture that is at once deeply spiritual and ideologically secular, the divides between exclusive claims on religion, culture, and politics has prevented meaningful coalitions across these divides to create social change. This talk examined queer and feminist theologies for ideas for systemic change across political divides.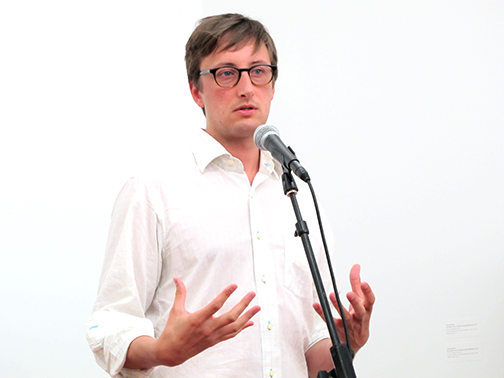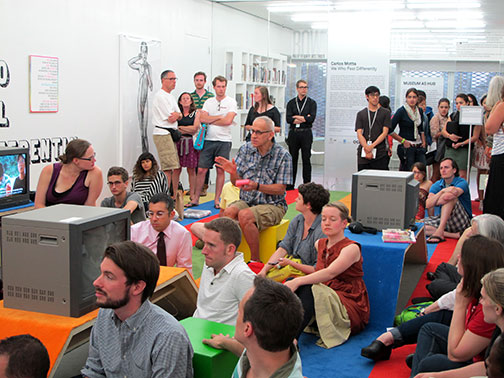 Jared Gilbert recently received a Master of Divinity from Yale Divinity School, receiving the institution's highest honor for pastoral leadership. As student body president and former co-leader of the LGBTQ Coalition he led the school in a series of institution-wide discussions about the politics of race, gender and sexuality in theological education at Yale. Jared's interest in theologies of liberation comes out of his own experiences and study of repressive and emancipatory theologies of sexuality, and his studies in Womanist theologies with Emilie Townes. He recently traveled to Dar es Salaam, Tanzania, to explore liberation theologies and social change through participatory theater and is currently researching and writing a practical liberationist ecclesiology. He is preparing for urban ministry in Brooklyn as a pastor with the United Church of Christ.

↑Top  
♥

June 21, 2012

"We Who Feel Differently: Thursday Night Programs": "Book Launch for Against Equality: Don't Ask To Fight Their Wars and Disastrous Inclusion, the Spring 2012 'We Who Feel Differently Journal,' guest edited by Ryan Conrad," New Museum, New York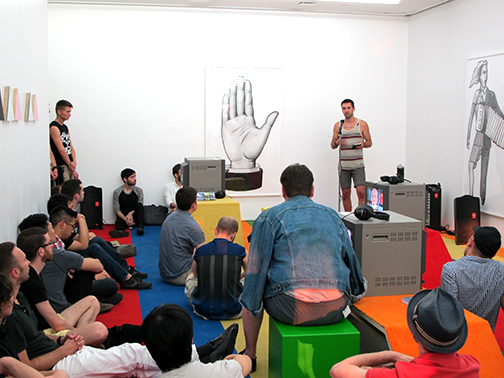 Ryan Conrad, Talk
Download audio file (mp3)
The New York launch of Against Equality's second anthology, Don't Ask to Fight Their Wars, and Disastrous Inclusion: Critical Reflections on the Legacy of DADT, the Spring 2012 issue of We Who Feel Differently Journal, featured a discussion with editor and Against Equality co-founder Ryan Conrad.
Don't Ask to Fight Their Wars collects pieces by contemporary radical voices critical of the mainstream gay community's uncritical approach to "Don't Ask, Don't Tell" (DADT). It features an introduction by the inimitable Mattilda Bernstein Sycamore and essays by writers—Bill Andriette, Kenyon Farrow, Larry Goldsmith, Jamal Rashad Jones, Cecilia Cissell Lucas, Erica R. Meiners, Mr. Fish, Yasmin Nair, Tamara K. Nopper, and Therese Quinn—from Against Equality's digital archives on LGBT investments in militarism. This archival anthology asks why the historically left/radical anti-war critique of war does not extend to DADT and the issue of queers in the military.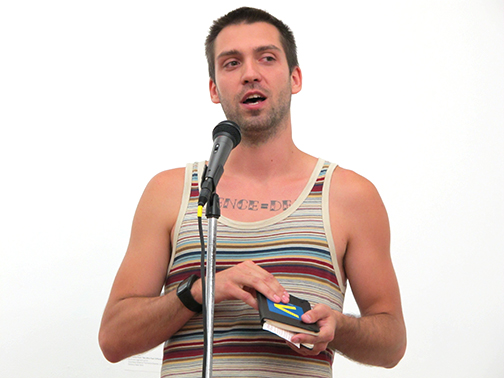 "Against Equality: Don't Ask to Fight Their Wars" provides a hitherto unavailable set of critiques on a subject that has rarely been approached with as much candor and nuance. Defying the prescriptive logic of "gay is good" that permeates mainstream gay politics, it seeks to interrogate the place of the military in a queer imagining of the world and simultaneously challenges the mainstream left to question its signing on to the damaging militarism of contemporary gay politics.
Copies of the new anthology, as well as the collective's first anthology Against Equality: Queer Critiques of Gay Marriage, will be available for purchase at the event. Proceeds from book sales subsidize our books-into-prisons policy of providing Against Equality books at no cost to LGBTQ prisoners.
http://againstequality.org/stuff/against-equality-dont-ask-to-fight-their-wars/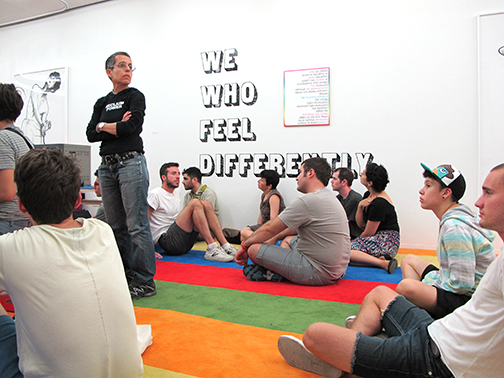 Disastrous Inclusion: Critical Reflections on the Legacy of DADT, the Spring 2012 issue of We Who Feel Differently Journal, features a combination of five new and archival texts reflecting on gay and lesbian investments in militarism in the United States, from the early days of DADT to the present moment in the Spring of 2012. Texts by: Karma Chávez, Ian Finkenbinder, LAGAI, Tamara K. Nopper, and Mattilda Bernstein Sycamore. Guest editor: Ryan Conrad
wewhofeeldifferently.info/journal.php


♥

June 7, 2012

"We Who Feel Differently: Thursday Night Programs": "Jeannine Tang and Reina Gossett with Eric Stanley and Chris Vargas: Love Revolution Not State Collusion," New Museum, New York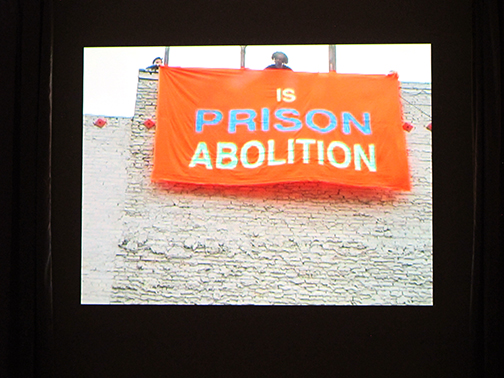 Above and below: stills from "Criminal Queers" by Eric Stanley and Chris Vargas
As transgender issues, artists, and theory have received greater recognition in contemporary art discourses and institutions since the 2000s, activist Reina Gossett and art historian Jeannine Tang discussed the role of art and artists in recent movement building and how contemporary art figures in critical trans politics today. The event featured a screening of the film Criminal Queers (2012), and was followed by a conversation with filmmakers Eric A. Stanley and Chris Vargas.
Criminal Queers visualizes a radical trans/queer struggle against the prison industrial complex and toward a world without walls. Remembering that prison breaks are both a theoretical and material practice of freedom, this film imagines what spaces might be opened up if crowbars, wigs, and metal files become tools for transformation. By expropriating the "prison break" genre, the question of form and content collapses into a rhythm of affective histories as images of possibility materialize even after possibility itself is foreclosed. Follow Yoshi, Joy, Susan, and Lucy as they fiercely read everything from the Human Rights Campaign and hate crimes legislation to the non-profitization of social movements.Criminal Queers grows our collective liberation by working to abolish the multiple ways our hearts, genders, and desires are confined.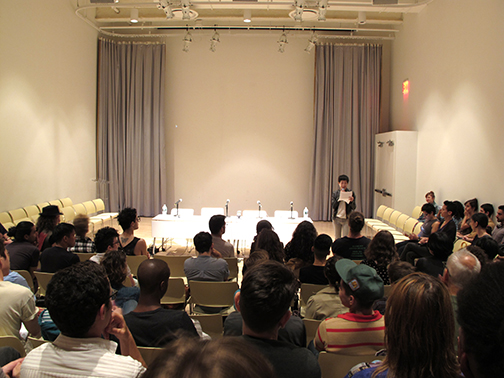 Presentation - Jeannine Tang, Art Historian
Download audio file (mp3)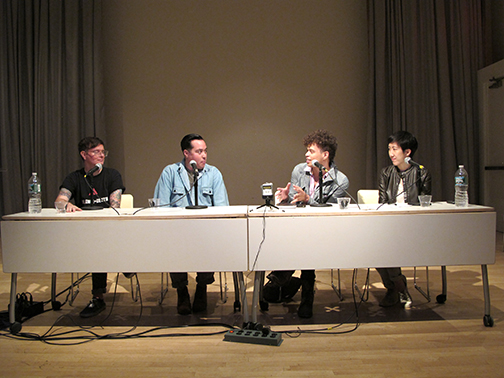 Panel Discussion - Reina Gossett, Community Organizer; Jeannine Tang, Art Historian; Eric Stanley andChirs Vargas, Filmmakers
Download audio file (mp3)